Toyota
Exploring Toyota's TMHA Facility Through Interior Design Photography.
In 2023, Vaughan Constructions and Toyota proudly unveiled their innovative TMHA facility in Dandenong. As one of the top interior design photography experts in Melbourne, I had the privilege of capturing the splendour of Toyota's ground-breaking new establishment. My goal was to showcase the facility's unique features and design elements, emphasizing its significance within the industry.
This remarkable material handling facility in Victoria is primed to boost efficiency for Toyota. With a vast 17,000m² floorspace, it will serve as a regional hub for major corporate accounts operations. Its multifaceted role encompasses the assembly, sales, rental, and servicing of a diverse range of construction equipment.
Inside, it houses inventories of new material handling and Huski construction vehicles while offering comprehensive support coverage for parts, field service, workshops, and training facilities. Notably, the facility features a demonstration area to showcase excavators, along with specialised sealed and pressurised paint and preparation booths. The expansive two-level office interiors are designed to include open-plan areas, meeting rooms, a boardroom, and a welcoming reception area with an impressive staircase.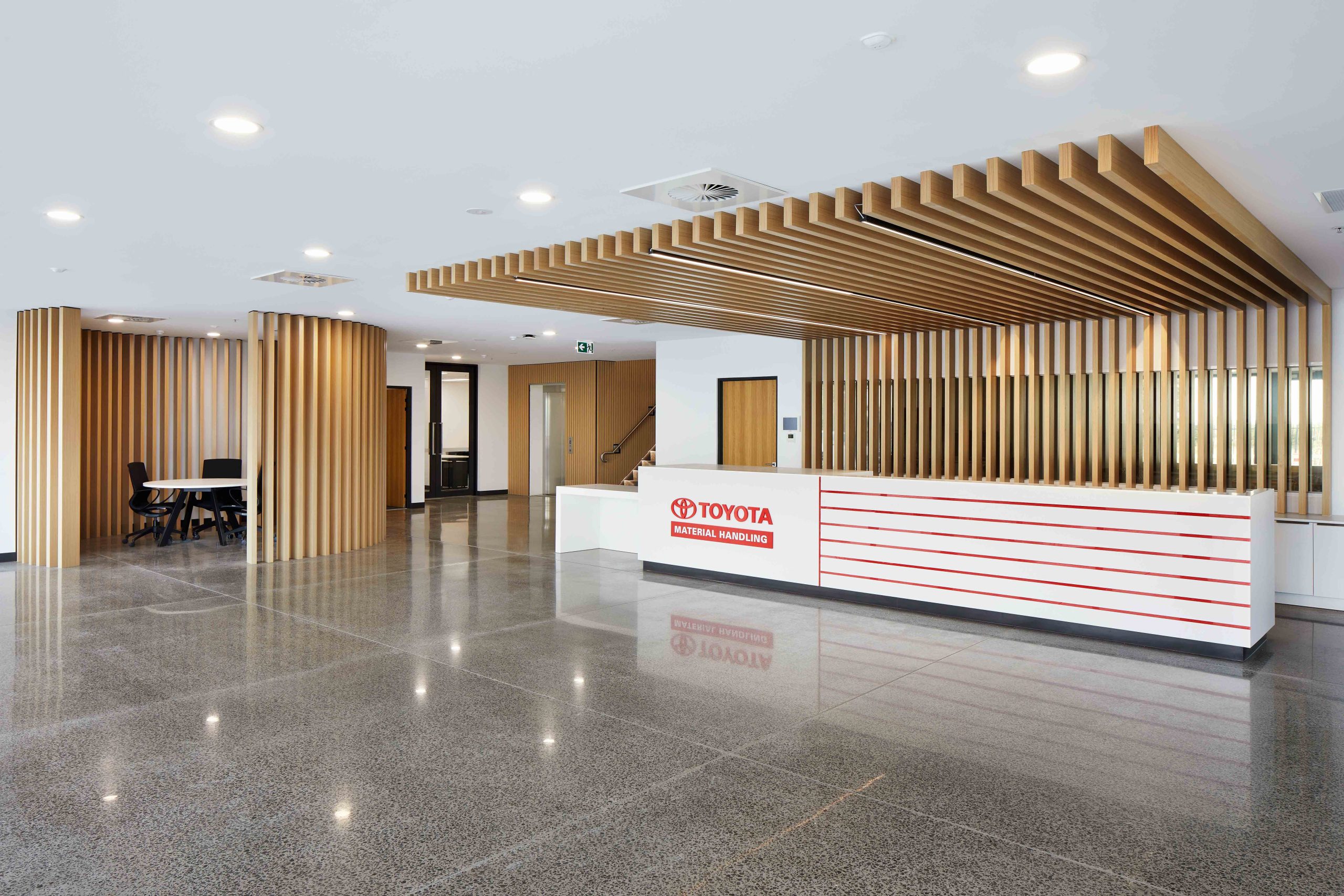 Interior Design Photography Specialising In The Construction Industry.
In the realm of interior design photography, striking the perfect balance between showcasing functionality and evoking the potential of a space is paramount. Having worked extensively the construction and civil works sectors, I understand the importance of showcasing projects with precision and excellence.
High-quality interior design photographs can effectively showcase a construction company's attention to detail and work craftsmanship. Clients are more likely to trust and engage with a company that can show a track record of successful projects through compelling images.
Moreover, interior design photography provides a valuable resource for creating marketing materials. The professional images add a level of sophistication and professionalism to your promotional content. When curated into a portfolio, these well-photographed projects become a powerful visual testament to a company's capabilities, fostering trust as a marketplace leader.
My extensive experience as an interior design photographer in the construction industry is evident in the images I produce. Besides depicting the grandeur of these interior spaces, they are also captured strategically to enhance my client's promotional potential. If you are ready to have your next construction project professionally photographed, let Ben Johnson Photography help you wow your clients. Get in touch today!